In France's Basque country, a quaint bakery still uses old methods to make the region's beloved shortbread cake. The sights and sounds of the mill and bakery keep people coming.
"You'll have to move quickly," Gerard Lhuillier told me as I stepped inside Moulin de Bassilour, camera in hand. "The cakes are almost done!"
At 08:00 on a weekday morning, the quaint bakery in the French Basque village of Bidart is buzzing. Many hands shuffle dozens of round cake tins from one station to another in perfect synchronisation. Owner and head baker Lhuillier stamps circles in a layer of dough. Another baker spreads the filling – either black cherry jam or yellow pastry cream. As the cakes get their tops, the team comes together to seal the layers with a fork. A metallic scratching sound fills the room.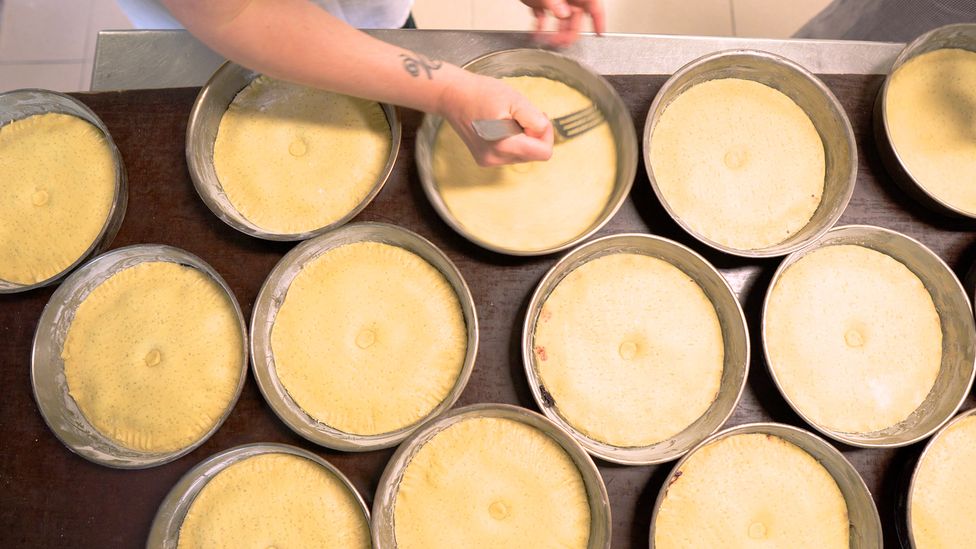 Basque cakes are topped with dough and then sealed with a fork (Credit: Anna Muckerman)
The rounds of raw dough, now shiny from a brush of egg wash, are loaded onto wooden planks and carried to the brick oven. These 150 traditional shortbread cakes – called Gâteau Basque – are the bakery's pride and joy.
Gâteau Basque has become an emblem of the French Basque Country, a region known for fierce cultural pride. Like the trendy burnt Basque cheesecake that hails from the nearby Spanish coast, the popularity of the Gâteau Basque lies in its elegant simplicity and a recent interest by international visitors looking to sample a decidedly regional treat.
While the exact origins of the recipe are unclear, legend has it that a Basque woman named Marianne Hirigoyen is to thank for the modern version of the cake. Originally from a thermal village called Cambo-les-Bains, Hirigoyen began to make and sell her Gâteau Basque in the market of Bayonne sometime around the 1830s.
Over the next century, the cake remained a traditional dessert eaten after Sunday dinners as each household's recipe was passed down from one generation to the next.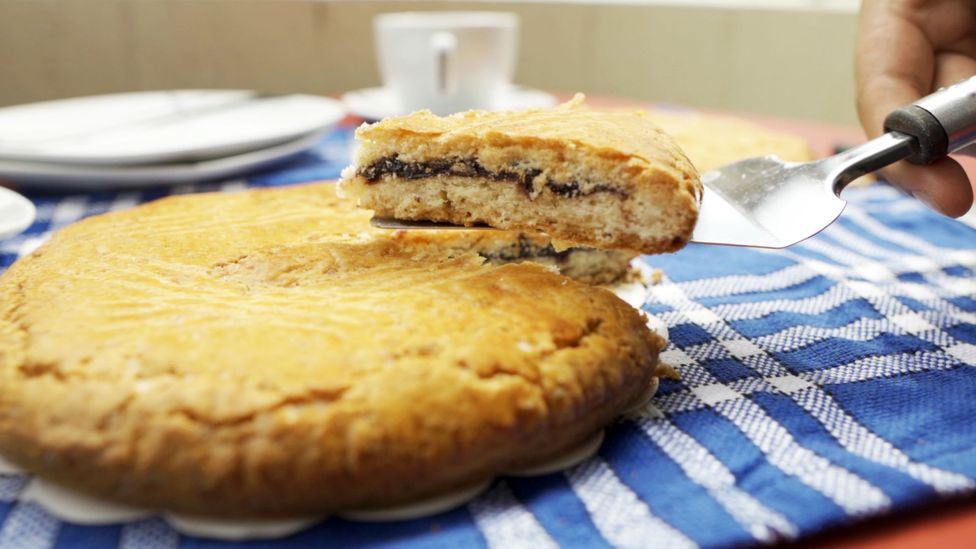 Gâteau Basque has become an emblem of the French Basque Country (Credit: Anna Muckerman)
When tourists began to discover the Basque coast in the 1960s, they brought back tales of beautiful beaches and a crumbly, cream-filled cake that couldn't be found anywhere else. In recent years, Gâteau Basque has become a tourist attraction in its own right, and today the cake is proudly displayed in bakery windows around the region. At Moulin de Bassilour, however, visitors and locals come for more than just a taste of the bakery's signature item: here, passers-by get a first-hand look at how the cake was made generations ago.
When the frenzy of baking had almost subsided, Lhuillier brought me into the bakery's front room where thick stone walls braced by wooden beams keep the air cool even in summer. Two large mills sat dormant in the centre of the room. Through the window, I could see that the stream running under the bakery was still.
Passers-by get a first-hand look at how the cake was made generations ago
Lhuillier poured a sack of wheat into the hopper. He pulled on a long, metal lever, and water gushed almost instantly. The stones began to turn. What could have been mistaken for a museum only seconds ago is now overcome by a symphony of clicks and whirring. Through a crack in the floor, I could see the water splashing violently against the mill's wooden paddles. Out of the grinding table came a chalky, fine powder: flour to be used in the next day's cakes.
The water mill was constructed around 1741, Lhuillier told me, and sits on a canal that was dug by hand specifically for that purpose. For almost 200 years, the mill remained two simple rooms with an oven only big enough for a few loaves of bread. Farmers could pay the mill owner to grind their harvests.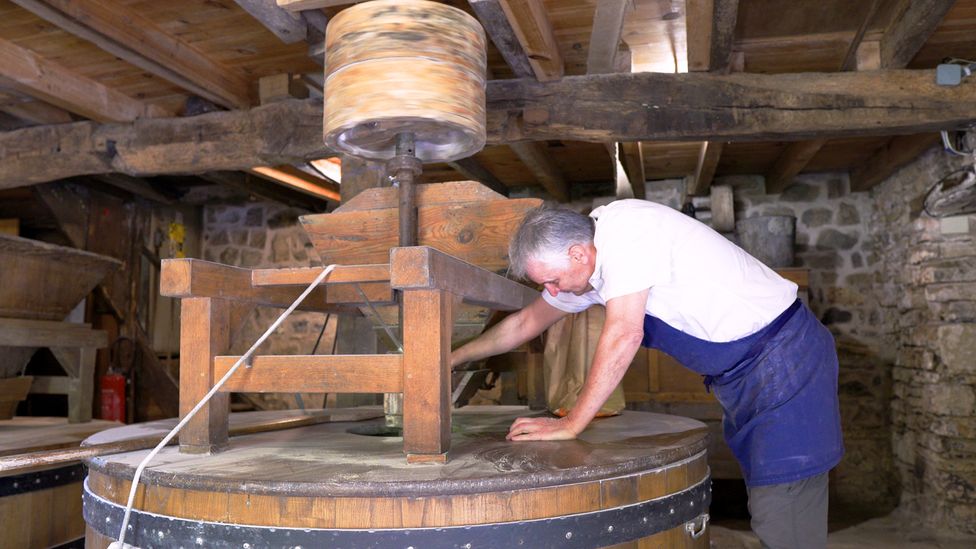 Gerard Lhuillier makes flour from a water mill that was constructed around 1741 (Credit: Anna Muckerman)
In 1934, the grandmother of Lhuillier's wife arrived in Bidart with her seven children and saw an opportunity. Using her traditional Gâteau Basque recipe, she began to make and sell cakes to support her family. When she retired, she handed over the business to her son.
In 1994, after having trained as a mechanic and served in the army, Lhuillier found himself working in a hardware store. Although he had never baked before, he jumped at the chance to buy the bakery and the original recipes along with it.
You may also be interested in:
• The perfect French baguette
• France's fight over chocolate pastry
• A simple French dish made from pantry staples
His in-laws were hesitant, but Lhuillier convinced them that his love for tinkering with all things mechanical was the perfect match for the historical operation. In the years that followed, Lhuillier added a more modern atelier to the bakery and invited the Basque country's growing number of tourists to come and see the mill at work. Maintaining a centuries-old water mill in functioning condition is not easy, but Lhuillier says it's been a life-long passion project.
"I know I will die before I finish everything that I need to do and want to do," he said. "But I've already done quite a bit and that gives me great satisfaction."
It's unclear what will happen to the mill once Lhuillier can no longer be its champion. He doesn't see a clear successor but says the threats to the mill's existence stretch beyond a question of inheritance.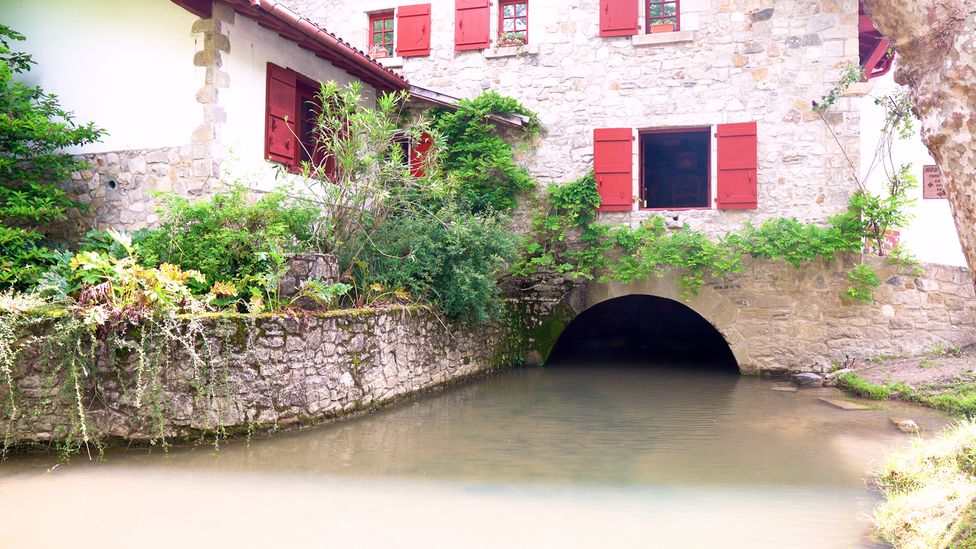 At Moulin de Bassilour, visitors get a first-hand look at how the Gâteau Basque was made generations ago (Credit: Anna Muckerman)
Since the early 2000s, environmentalist groups in France have alleged that water mills, even historical ones, bear some responsibility for the decline in native fish populations. In the past decade, dozens of water mills have been disassembled or otherwise rendered inoperational as local governments decide that the environmental damage outweighs the need for preservation of the heritage.
Lhuillier believes the environmental groups are turning a blind eye to the real culprit for the lack of fish – pesticides and pollution that are far less visible than the paddles of a water mill.
"Sixty years ago, there were fish. That means the water wheel didn't bother them," he said. "I'm worried that when I'm gone, the mill will stop. It's a battle."
On a sunny summer day, questions about the mill's future seem a distant worry. Customers wander around the millstones before heading into the bakery to buy the fresh-baked goods.
"I'm sending these to Paris!" one woman explained, as her two golden brown cakes were wrapped in white wax paper and tied with ribbon.
While many visitors enjoy the black cherry filling, Lhuillier says that the pastry cream flavour is actually the more traditional of the two varieties since it uses the same, simple ingredients found in the dough.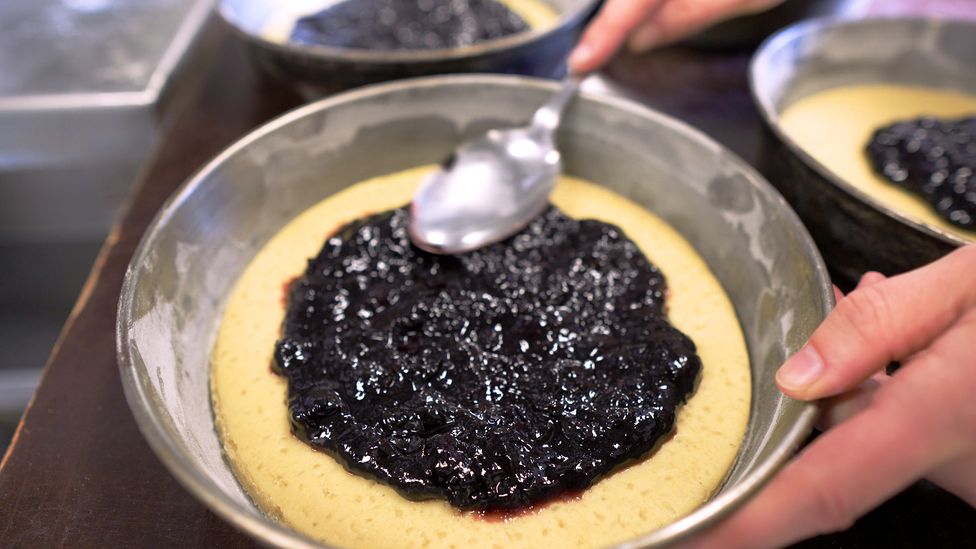 The typical fillings for Gâteau Basque are either black cherry jam or yellow pastry cream (Credit: Anna Muckerman)
"It's a cake from grandma's house with the ingredients of the farm: milk, flour, eggs. It's passed down in families," he said.
Up until the 1980s, Moulin de Bassilour made its fruit-filled version of the cake with apricot jam. Now, Lhuillier uses a local black cherry variety, which is another traditional flavour. His homemade pastry cream still remains the best seller.
"Many bakers flavour their pastry cream with almond, but on a farm we would never start to add an ingredient that costs a lot of money," he said. "Our flavouring is a bit of rum because in Basque country there's always a bit of rum on hand for cooling down the coffee."
Lhuillier says his commitment to the simplicity of the recipe is what keeps the bakery going year after year, and he feels proud to continue the tradition of his region. 
"We haven't changed the recipe for more than 60 years but each generation that passes likes it, he said. "It's a Gâteau Basque that pleases the palettes of people who come from everywhere."
--- 
Join more than three million BBC Travel fans by liking us on Facebook, or follow us on Twitter and Instagram.
If you liked this story, sign up for the weekly bbc.com features newsletter called "The Essential List". A handpicked selection of stories from BBC Future, Culture, Worklife and Travel, delivered to your inbox every Friday.